On Wednesday, April 8, 2015 Mrs. Lina Crocker and Miss Julia Diez took several students to visit Abraham Lincoln's birthplace and My Old Kentucky Home State Park. This is one of many opportunities for students to take a day-long trip with CESL Faculty.
They began by taking a bus nearly an hour and a half to Hodgenville, KY, the birthplace of America's 16th president: Abraham Lincoln. At the Abraham Lincoln Birthplace National Historical Park the students learned about the history and culture that Lincoln experienced growing up in Kentucky in the early 1800s.
The students also visited the Lincoln Museum of Kentucky, where they browsed various dioramas, civil war memorabilia, and an art gallery, all centering around the boyhood life of former president Abraham Lincoln.
Stopping to eat lunch at the local Hodgenville Grill, the students were treated to a traditional, home-cooked style meal.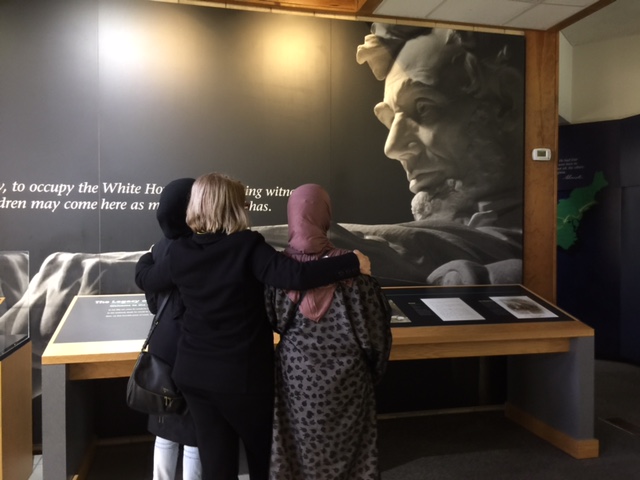 On their way back to Lexington, the group stopped off at the My Old Kentucky Home Park in Bardstown, KY. This park features the home that, according to legend, inspired Stephen Collin's classic song: "My Old Kentucky Home". Here they toured the house and grounds at one of the best known historical sites in Kentucky.
This trip to a piece of Kentucky heritage is only one of many that is organized by Mrs. Lina Crocker. These events give CESL students the opportunity to learn about the history and culture of Kentucky and its most iconic people, places, and events. By educating students outside of the classroom, they can enhance their language skills, learn about Kentucky, and socialize with their teachers and peers.
To find out more about the kind of events happening at CESL, view our Calendar of Events!