By Erin Holaday Ziegler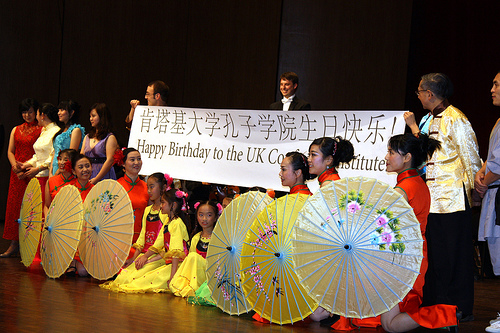 University of Kentucky Confucius Institute Director Huajing Maske rarely takes a moment to reflect. With a passion for spreading Chinese language and culture to the Commonwealth that aligns with the UKCI's gateway mission, Maske and her small staff have made quite an impact on UK, Central Kentucky schools and the community in their first year of work.
"When I sit down and think about it, we've achieved a lot," Maske said laughing. "It's amazing to see such an improvement in such a short time."
The Confucius Institute's goals are to provide leadership, support and coordination for Chinese language and programs in K-12 schools as well as on the UK campus; assist in establishing and maintaining faculty and student exchange between College of Fine Arts of UK and Shanghai University's College of Fine Arts; conduct Chinese language and cultural exchange; and promote education about China on campus, across the Bluegrass region, and throughout Kentucky.
Maske sees three pictures of the UKCI: UK's campus, the community and K-12 outreach.
Maske didn't know where the Confucius Institute would position itself on campus, with the strong presence of the Asia Center and Chinese Studies program already present
"Over this year, we have found our place as one of the conduits of Chinese initiatives and culture at UK," she said. "We're working with faculty on exchange programs, lecture series and other collaborations."
The Confucius Institute has helped UK's College of Arts & Sciences, College of Education, Education Abroad and the College of Fine Arts in establishing agreements, teaching and study abroad programs with Jilin University in Ningbo, China, and Shanghai University.
The College of Fine Arts brought in 24 SU arts students and faculty this summer to take a week-long class in UK's Department of Art. UK has established a student teaching program in Shian, China, for 7-10 weeks as well.
"As more and more colleges want to do programs with China, we can be there for them," Maske said.
The UK Confucius Institute works closely with constituencies outside of campus as well. "We collaborate closely with the Kentucky Chinese American Association, local schools and the community. People have begun to know who we are," Maske said.
The UKCI continues to coordinate wildly successful classes in Chinese music, art appreciation, calligraphy, tai chi, cuisine and painting, in addition to co-sponsoring community celebrations like the Moon Festival and Chinese New Year.
But nowhere can the UKCI's presence be felt more abundantly than in Central Kentucky classrooms. More than 2,000 K-12 students have Chinese instruction this year because of UK Confucius Institute-sponsored teachers.  The UKCI frequently hosts professional development workshops for Chinese teachers in Lexington, as well as western Kentucky and Louisville.
"Teachers and students love our workshops," Maske said . "We'll bring in musicians, tai chi instructors … because of our resources and support for K-12, students will arrive to UK knowing Chinese at a higher level."
"We are a bridge between K-12 and UK and the community," Maske added. "This will impact the state and UK's involvement in the Commonwealth."