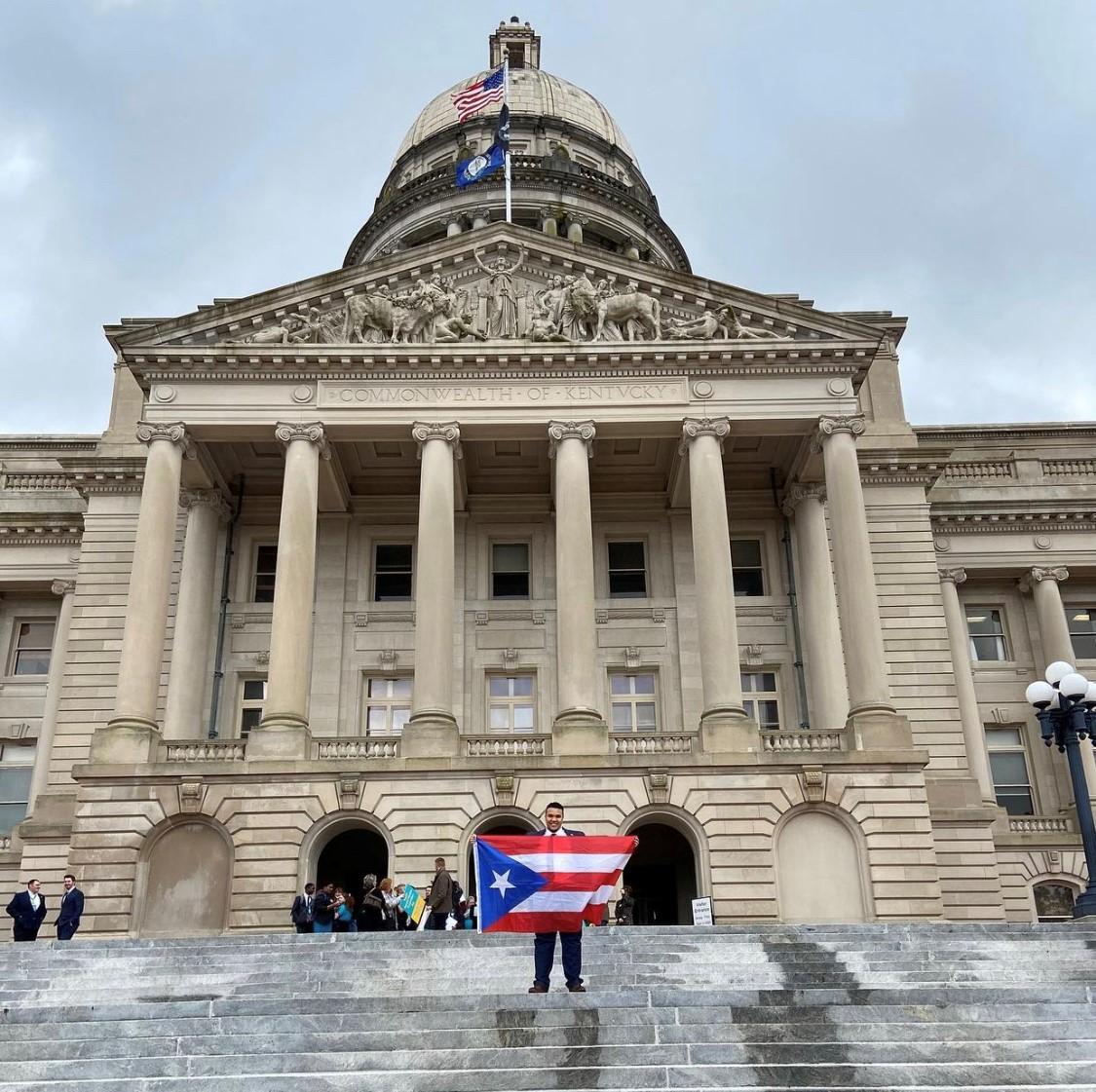 LEXINGTON, Ky. -- We often hear about rags to riches stories: how some people come from a tough background and push their way to a better situation down the line. Juan Montilla Pabòn has embarked on a similar path. He will graduate with a bachelor's degree in May from the University of Kentucky with a major in political science and a minor in history. UK's Employee Education Program has given him a big boost toward reaching his dream.  
"Since I moved to Kentucky after leaving Louisiana, I knew that UK was the best option for me," said Montilla Pabòn, who works as a patient clerical assistant with UK HealthCare. "UK has a program where you can work and pay for six school credits. So far, I have worked and gone to the school here for four years, and it is honestly the best decision I have ever made. Here at UK, I feel included and respected. They give me opportunities and allow me to climb the ladder based on my work ethic and values, regardless of my background. It is a very good environment to want to retire from."  
Montilla Pabòn was born and raised in Puerto Rico. He lived with his mother and three siblings in very challenging circumstances. His family struggled with poverty and encountered many adversities to survive.  
"I experienced food insecurities many times, and the stress of trying to help pay the bills to maintain water and lights in the house," he said. "At certain points I remember receiving the kindness of neighbors to pass an extension cord so that we could have lights in the apartment. When the water was cut, we would have 2-liter water bottles ready so that we could shower." 
He also experienced a violent and unhealthy environment in a community where he was exposed to drugs and violence. 
"Although I have never used drugs, I have seen people being murdered and the aftermath several times," he said. "I had also woken up in the middle of the night to police raids and more than 50 rounds of gunshots fired. At a certain point those shots stopped waking me up and scaring me."  
Eventually, he started moving to different foster care homes; child protective services removed him several times because of child neglect and abuse. Finally, the system sent him to live with his father in Louisiana, where he graduated from high school.  
"When child protective services sent me to Louisiana to live with my dad, I started to enjoy more safety and security," he said. "But I still had defensive behaviors, due to having to fend and survive for myself at a young age. In high school, my math and science classes were taught all in English, and it took me some time to adapt because Spanish is my first language. However, I was determined to overcome this small obstacle and graduated with a 3.5 GPA."  
After high school, Montilla Pabòn earned an associate's degree in business office administration with a concentration in accounting at South Central Louisiana Technical College. He then chose to work toward a bachelor's degree, and he chose the University of Kentucky as his next destination as both an employee and as a student. Montilla Pabòn has been heavily involved on campus and in the community, including the Latino Student Union in the Martin Luther King Center.  
"Among some of the many events, we have educational seminars, historical movies, and food events where we display our culture cuisine," he said. "We try to create a voice on campus to advocate for some of our Latino students' and minorities' needs." 
He has also interned for the Kentucky House of Representatives through UK's Legislative Internship Program, where he worked for Rep. Russ Meyer from District 39 in Nicholasville. He also worked as an intern with the nonprofit Bluegrass Greensource as part of UK's Community Scholar Program.  
He said he has met several people at UK who he believes have been his biggest supporters as he has tried to navigate his way through the system. One was former Counseling Center employee Federico Aldarondo. Also, Ruth Gonzalez Jiménez, Latino student community specialist, was a big help.  
"She's been amazing and has taught me how to be able to serve the community and have some relaxation time and not just focus on work and school, because community work is important," he said.  
In addition, Karen Slaymaker, assistant director for international student and scholar services, has been key in helping Montilla Pabòn succeed.  
"When I first met her, I was extremely proud of her accomplishments because when you see someone who helps the community so much and has dedicated so many years of service at the university, it gives you the courage and inspiration to be able to replicate that as well," he said. "She's been great with me and has helped me learn a lot of leadership skills as well."  
Slaymaker is extremely impressed with Montilla Pabòn's progress toward his degree.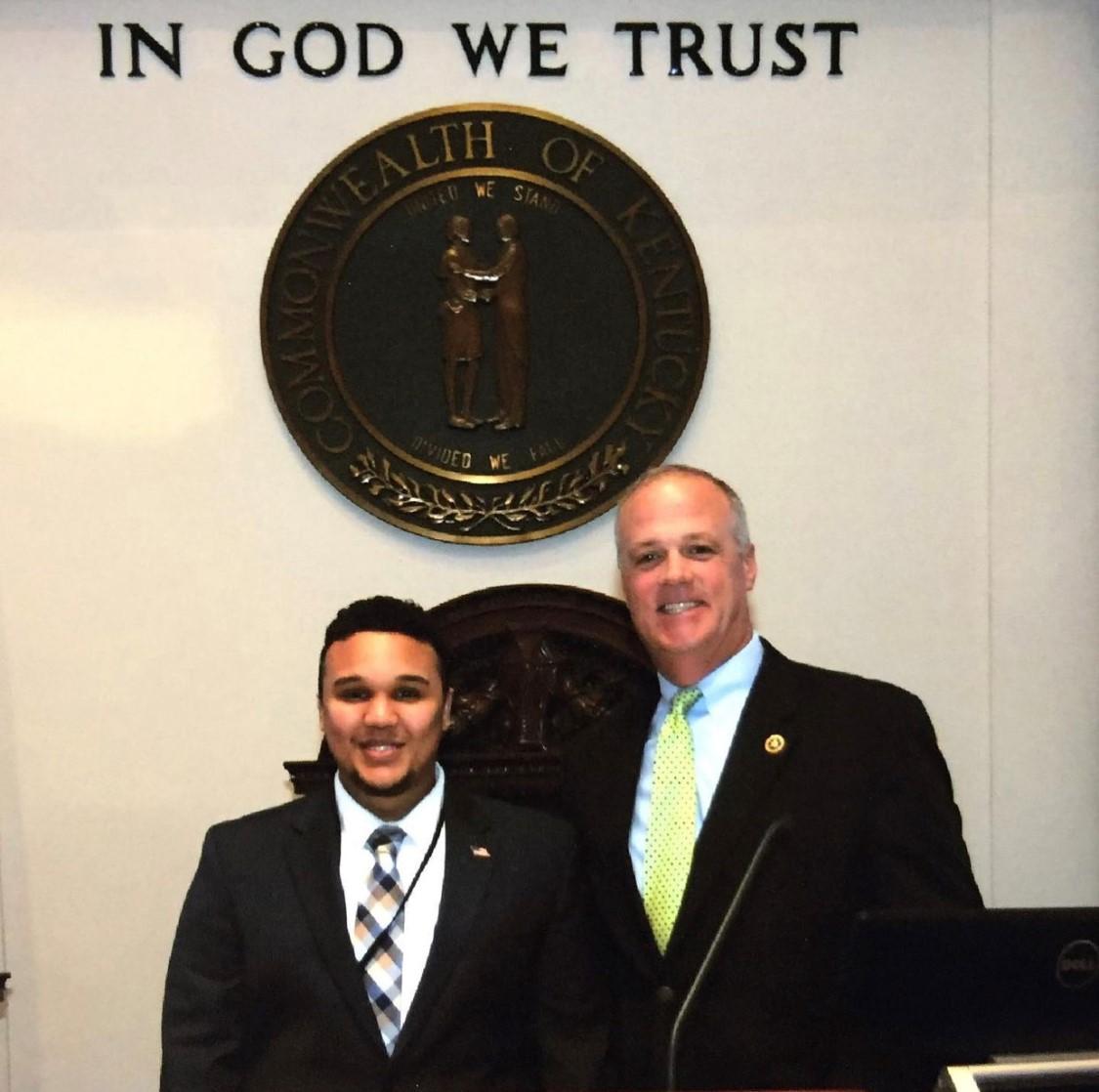 "I met Juan through a Staff Senate mentorship program, which was put together this semester, so I only met him in January," she said. "I have been so impressed with how he's been able to work and go to school full time while also doing internships. I have really admired his perseverance as well. I think showing that perseverance and not stopping when things get tough, with everything he has been through, has been extremely impressive." 
Even while working and going to school, Juan still manages to take care of his sister, Nashaly Algarin Pabòn, who lives with him at home in Lexington.  
"She has had many medical conditions after being born early," he said. "My sister almost died, but after surgeries and being kept in the NICU, she pulled through. She is now starting community college this year; I was worried because she struggles due to dealing with cerebral palsy, but I have helped her choose a program that is easy and enjoyable. We also support each other emotionally."  
Montilla Pabòn has been accepted into the master's program in information communication technology at UK. He continues to pursue his dream to better his life and continue to give back to his communities.  
"I hope that one day I can retire from the University of Kentucky and move back to Puerto Rico, where I can apply what I've learned in the mainland and help people in my community or kids who may be going through similar experiences make a difference in their lives," he said. "I truly want to gain new skills and experience and knowledge in various fields."