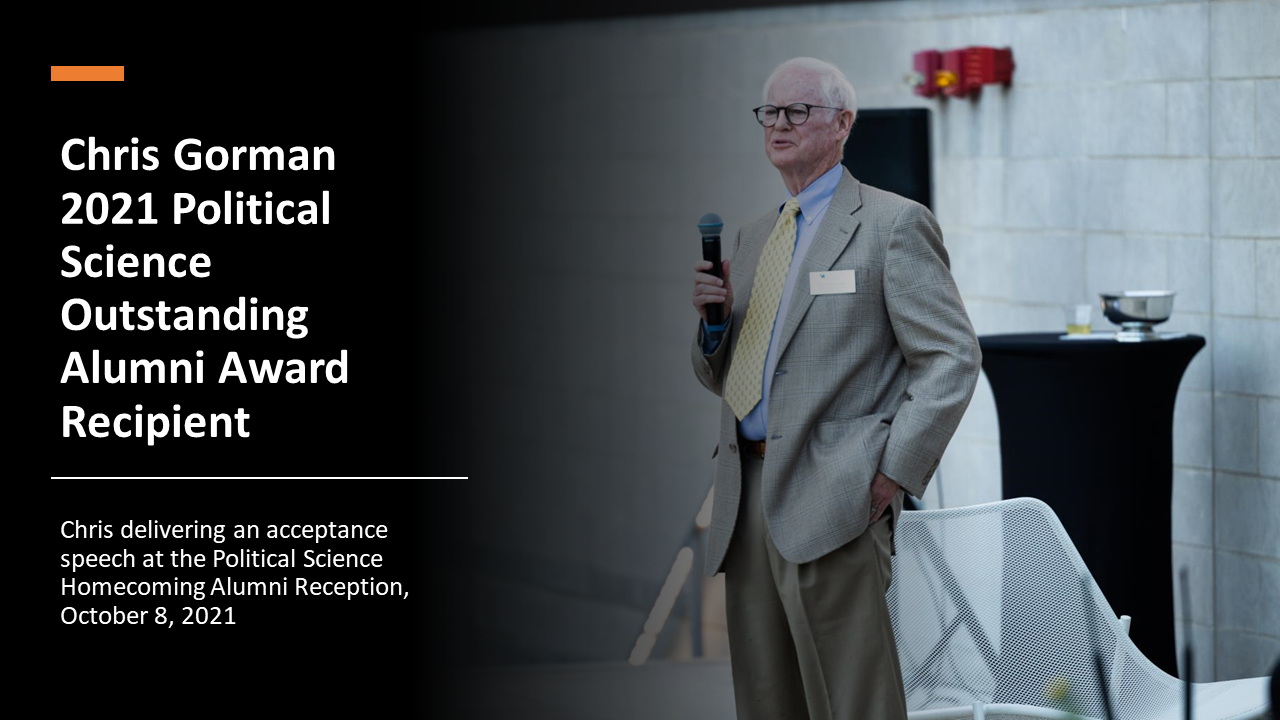 Chris Gorman and Department Manager Eva Hicks had a conversation recently about the Political Science Outstanding Alumni Award, his involvement with the University of Kentucky, and his hopes for our students and the nation. Read their conversation below.
Mrs. Hicks:  Chris, you were awarded the first ever Political Science Outstanding Alumni Award in October 2021. Congratulations! We were so pleased to present the award to someone with such a heart for the department, the College, and the University of Kentucky. When we developed the award, we wanted to give it to someone who had been a successful businessperson, had given back both with their time and funds to the department and college where they learned and grew, and had a heart for the development of our students. You have certainly met the criteria. You have been a successful businessman for many years, serving as Kentucky's Attorney General for four years plus over 32 years of legal experience overall. You have given generously to our department, the College, and the University. How did you feel being the first recipient of our Outstanding Alumni Award?
Chris Gorman: First, let me thank former chair of the department, Ernie Yanarella who asked me to serve on the board. It is stars like Professors Jack Reeves and Malcolm E. Jewell of my day and Ernie more recently who have made the department the high-quality educational resource it is today. I am both humbled and appreciative. I'm sure there are many equally deserving individuals and I look forward to them being recognized in the future. My father did not attend college but was determined that his four sons would not make the same mistake. I am the perfect example of what land grant colleges are all about.
There is no way I could have afforded a private college. But, with practically no tuition, a part time job and help from home I was able to achieve my dream. I was successful in life because UK, A&S, and law school afforded me the highest quality education equipping me with the skills and tools to succeed as a successful lawyer and elected official.
For instance, my civil law practice was a people's practice handling ordinary people's problems ranging from automobile accidents, divorces, wills, adoptions, formation of corporations and partnerships. Lessons learned from many of my professors at UK enabled me to build a huge practice of loyal clients and to help overcome many issues and problems my clients believed difficult or impossible to solve.
Likewise, during my ten years of elective office as a Jefferson County Commissioner and Attorney General I daily relied upon advice given by my mentors at UK. For instance, I have often told the story I learned in class one day of a Chinese diplomat who when asked by an adversary to sit down and talk over differences replied, "No let's don't do that. Let's talk about all we agree upon first. Then maybe we won't have any substantial differences."
Because of UK I was able to make a difference in people's lives. As Emily (Bacchus, Associate Chair of Political Science) pointed out during the awards ceremony along with the US attorney, I prosecuted the largest corruption case in the history of Kentucky legislature. 13 Legislators were convicted of taking bribes and other illegal activities. My office also wrote and implemented the most far-reaching Domestic Violence legislation in Kentucky's history.
Another top issue was a child sexual abuse task force which also resulted in protocols utilizing an interdisciplinary approach in such cases. Several years after I left the office of AG I was on an airplane and was seated next to a gentleman who was head of the child abuse division of the Maryland state police. After we began a discussion of his issue, he asked who I was as I knew more about it than he did. When I told him my name, he did a double take and said, "Sir, it's an honor to meet you. Are you aware that practically every state uses the protocols from your task force?" My point is that the education I received at UK enabled me to head an office of extremely dedicated and talented people who truly made a difference in many children's lives.
Mrs. Hicks:  You have said in past interviews, "I grew up at UK."  You earned two degrees (a BA in 1965 and a JD in 1967) here and met your lovely wife, Vicki. Is that why you have such a heart to give back to UK?
Chris Gorman:  Yes, of course it is. I had attended a wonderful but small Catholic high school having only 18 in my graduating class. Attending a major state university with eleven thousand students from all over the world of different races, religions, and ethnic groups was an enlightening cultural experience. The professors always had their door open which I took advantage of many times. I said I grew up at UK because I had many, many high points both socially and academically learning the skills I would need later in life. A very low point happened my senior year when my best friend was killed in the war in Southeast Asia. My whole career path changed, and I realized I had to make decisions for myself after listening to others whose knowledge I valued.
It was at UK where, as a young Catholic Democrat I met Vicki Beekman, a Baptist Republican and decided they weren't so bad after all. We married a couple of years later and have two very successful sons and four grandchildren.
Mrs. Hicks:  I was touched and impressed by your opinion piece in the Louisville Courier Journal in January last year urging everyone to listen to the UK basketball team members. In the current national climate of discontent and disagreement it is so important to listen and listen for understanding and learning. You have been very generous with the UK Political Science Department as well as the College of Nursing at UK. You have clearly heard the call from our students for financial assistance. How would you send out a call to our other alumni who might not have thought of giving back?
Chris Gorman:  I was reminded many times growing up by my father who was an army medic in WWII that, "the kids I treated and those that died on Omaha Beach fought for Americans' right of free speech. Don't ever take it for granted. Don't ever deny it to someone else. Don't let others deny unpopular views to be heard." As Voltaire said, "while I disagreed with what you have to say, I will defend until my death your right to say it."
Our house was the last house owned by white people in our neighborhood, so I grew up with a lot of wonderful Black friends. To put it mildly, they have gotten a raw deal in America through not only slavery but Jim Crow laws, redlining by banks, restrictions in deeds preventing blacks from buying houses and scores of other systematic government sanctioned laws which have kept them down. While I would personally always stand in reverence for the flag that doesn't mean that my way is the only way. We need to listen and help heal this nation.
When Professor Ernie Yanarella called me, he began by asking me "for a favor". The truth is he did me and my wife a favor. WE TRULY GET MORE OUT OF GIVING TO THE STUDENTS THAN THEY DO. You don't have to be a multimillionaire to make a difference in these well-deserved kids' lives. While tuition was basically free at UK ($74 which included free football and basketball tickets) for my generation our current generation of leaders have lost their way. Because of declining state appropriations kids build up debts of tens of thousands of dollars. Vicki and I started with a donation of $5,000 and thought it would be a one-time thing. Then we met the students. I could tell you a number of stories as to why we give but here's just one. Imagine the war between the Hutus and Tutsi tribes, hundreds of people being hacked to death. Someone sees a baby lying on the ground and picks her up carrying her to safety. She was a third-year nursing student when we had lunch with her. She speaks six languages. She can go anywhere in the world as a nurse and get a good job helping others. She asked us to do her a favor and have her picture made with us. Really? We were humbled to be a very small part of her story.
I am also an alum of any Ivy League school. Their idea of diversity is to grant admission to children of extremely successful people of color. UK is a land grant school charged with educating the masses. At UK 20% of the students come from families that make less than $19,500 a year. Obviously, first of their family to ever go to college. Now who is making the bigger difference?
Give what you can. Meet your students. I guarantee you it will be the best money you ever spend.
Mrs. Hicks:  It seems to me, from reading some of your story that you had parents who were exceptionally moral and passed on an intentional work ethic and understanding of personal relations to their children. Do you feel your training at the University of Kentucky added to that?
Chris Gorman:  Yes, we do believe UK added to that. Mother always taught us that public service was the highest service you could be a part of. I also had professors at UK, Jack Reeves in Political Science, who reminded us we were fortunate to be attending a college. My generation was just 20 years from a world war, and we all knew we were fortunate. The whole country was on a high and full of patriotism.
All four of my brothers and my parents always worked. It was just ground into us. We were taught good work is a blessing and enables you not only to support your family but to give back to those less fortunate in order to make America a stronger and better nation.
Mrs. Hicks:  We are so pleased to call you "ours" in the Department of Political Science. Thank you for all you have done for our department and our students. We are honored to honor you and look forward to continuing the tradition of honoring alumni in the years to come through the newly created "Outstanding Alumni Award". Is there anything else you'd like to say to our readership?
Chris Gorman: I just finished reading three books. "The Changing World Order" by Ray Dalio, "Lords of Easy Money" by Christopher Leonard, and "CodeBreaker" by Walter Issacson. The first two relate to our economy and how it is falling apart because of the Central bank solving problems by zero interest rates and printing money. Our war with China to maintain our superpower status. "CodeBreaker" is about Jennifer Doudna, an incredible research scientist at Berkeley and how our research at public universities enabled us to save years in inventing the Covid vaccine. And that we will in the foreseeable future (the lives of our students at UK) be able to use gene editing to erase most diseases and design future human beings with things like perfect sight, high IQ, strong bodies, etc. if we so choose.
The reason I mention these books is they all have a common point. IF AMERICA IS TO REMAIN A SUPERPPOWER IT WILL DO SO ONLY BECAUSE OF EDUCATION, EDUCATION, AND EDUCATION. Our system of research universities is the most respected in the world. China only has two in the top fifty. We have most of them. Do we have big time problems with the economy, international relations, climate change and a variety of other issues? Yes. But if we continue to maintain our lead in higher education our next generation of leaders will have the tools to figure it out and bring a better life for not only USA citizens but the entire world.
That is why I believe so much in higher education and Vicki and I feel very blessed and appreciative for being a very, very small part of our students' successes.