HISTORY OF THE DEPARTMENT OF POLITICAL SCIENCE AT THE UNIVERSITY OF KENTUCKY
by Dr. Bradley Canon

The Department was founded in 1923. It established a masters program shortly thereafter and the first Ph.D. was awarded in the late 1930s. Dr. Amry Vandenbosch, a well known scholar in international relations and one of the drafters of the United Nations Charter in 1945, served as Head of the Department from 1931 until 1957.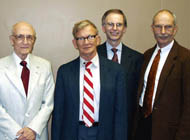 As political science became more quantitative in the 1960s, the Department also shifted its emphasis. This began in 1963 when Dr. S. Sidney Ulmer was recruited as Chair. He is a renowned scholar in judicial behavior and under his leadership the Department recruited scholars who were conducting quantitative research on political behavior or relationships. By the late 1960s, faculty were publishing articles in the nation's leading political science journals with great frequency – a pattern that continues to this day. In addition to Ulmer, researchers such as Drs. Malcolm Jewell, Dean Jaros, Bradley Canon and William Lyons did work gaining nationwide attention. Drs. Lee Sigelman, William Lowery, Pamela Conover, Stanley Feldman, Bill Berry, Mark Peffley, Karen Mingst and Donald Gross did the same in the 1980s and 1990s[1]. Several faculty members became leaders in the profession, serving as editors of major journals, presidents of regional associations or chairs of American Political Science Association sections. Dr. Lyons chaired the Lexington-Fayette County governmental merger commission and later spent two terms on the Urban County Council.
The Department has contributed its fair share and more to university administration and governance. Dr. Michael Baer served as Dean of Arts and Sciences during the 1980s, two faculty served as associate deans of the Graduate School and six were elected to the University Senate Council (four were chair of that body).
Over the last 40 years the graduate program has emphasized the Ph.D. and the Department has produced a good number, many of whom have become prominent in the profession, e.g., Micheal Giles, Jim Garrand, Todd Shields, Kirby Goidel, Neal Woods and Laura Neack. Most Ph.Ds have chosen academic careers and some have appointments at universities comparable to Kentucky.
Undergraduate majors have increased considerably over time – now close to 600, with only 12 full-time faculty members in the department. Several faculty, have won university wide or college best-teaching awards. In 2007, the Department hired two full time academic advisors to answer undergrads' questions and help schedule their classes.
Pictured above from left: Emeritus faculty Sidney Ulmer, Bradley Canon, and their former students Charles Johnson and Michael Giles.
[1] While the number of prominent scholars increased, the size of the faculty has decreased steadily since peaking at 22 in 1975, making us one of the smallest political science departments in the Commonwealth and beyond.
For a more detailed history, please click here.