Political Science Professor Turns Research and Teaching Success into an Art
Justin Wedeking's recent U.S. Supreme Court research receives NSF grant to continue study of online Supereme Court news stories
By Madison Dyment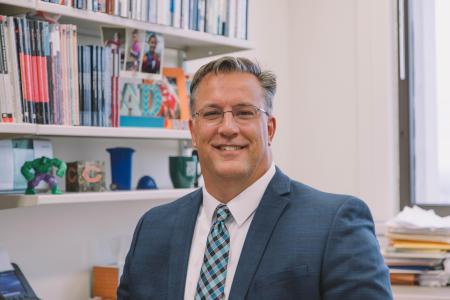 Usually when accepting a professor position, you're faced with the challenge of balancing research and teaching requirements. For some professors, like political science professor Justin Wedeking, you not only rise to the challenge, but also excel in it. 
Wedeking is a full professor in the Department of Political Science while also serving as the Department's Associate Chair and its Director of Graduate Studies. Coming to UK in 2007, he has been part of the University for 13 years. 
"I'd been studying law and courts and judicial behavior and UK had such a strong reputation in that area of focus, so this job was a great chance to carry on that torch and legacy by working here," Wedeking said. 
Wedeking's primary area of focus has been judicial politics, specifically law and courts and the U.S. Supreme Court. He has contributed various publications on subjects ranging from the Court's oral arguments, Senate confirmation hearings of Supreme Court justices, and has a forthcoming book on the justices' personalities and how their conscientiousness guides their decisions. 
"Basically, I look for any new way I can think of to study the Supreme Court," Wedeking said.
This research has garnered a lot of attention for Wedeking over the years. Media outlets such as the New York Times have covered his findings, specifically his research on the Supreme Court confirmation hearings. 
"There's this big notion that the nominees would show up and be asked questions by the senators and they'd give meaningless answers, that these hearings were being criticized for being more or less a hopeless charade," Wedeking said. "We found that, largely, when nominees show up, they would answer about 70 percent of the questions in a very forthcoming way. They're not going to answer all questions and will sometimes avoid questions, largely to maintain an image of impartiality."
"It's interesting, because now people have a baseline for how many questions are answered," Wedeking said. "That research has gotten a lot of attention from some media outlets, especially when a confirmation hearing comes around."
Wedeking has recently taken his research to an innovative level. Collaborating with fellow political science professor Michael Zilis, Wedeking has combined efforts with the computer science program at UK to create an application that collects online news stories about the Supreme Court to compile the data in textual stories. 
"We originally pitched the project in a computer science 499 class, which is the computer science capstone class where the students have to undertake a project to graduate," Wedeking said. "We didn't know what this would look like and the students didn't either, but over the course of a semester, they were able to create a product that did just that."
After some refinement over another semester, the app has allowed Wedeking and Zilis to analyze how "new" media outlets cover the Supreme Court differently from the more traditional outlets. As a result, the project has received a grant of $275,000 from the National Science Foundation. 
"They want us to essentially take a closer look into what impact this new coverage is having on individuals as they evaluate the Court," Wedeking said. "Preliminary results are showing that there are some outlets out there that actually are changing how people view the Supreme Court." 
Alongside thriving research, Wedeking boasts an equally impressive teaching record. Wedeking teaches both undergraduate and graduate courses and has focused recently on the latter. His courses span from judicial behavior, political methodology, textual data mining and analysis, to politics in law courts, and the intersection of sports, politics and law. 
Wedeking is an engaging professor, emphasizing student understanding and interaction with the material.
"One of the most important things we do here as professors is to get students to think critically about subjects and to think about things they've never considered before and to think about things in different ways," Wedeking said. "It's not just spoon-feeding students information, but it's having them engage in this process."
Wedeking will often spend time posing questions to the students to make them consider the content and think critically. This engaging teaching style emphasizes the students connecting with the material deeper than simply copying notes. 
Although Wedeking holds research in high esteem, he has developed an appreciation for the interactions he has with students as a teacher. 
"Teaching has been so rewarding, especially when you get to see students at the moment when a lightbulb goes off in their head. It gets you energized," Wedeking said. "That's the best thing about students; every year they come to the university and are very eager to learn and your job is then to channel that energy to help them learn about something that's going to have an impact."
Evidently, his teaching has been impactful for students with many of Wedeking's former students becoming lawyers in various fields. 
"The really nice thing about teaching is hearing about these success stories later on," Wedeking said. "You'll hear back from a few of them a few years down the road and it's so rewarding and validating."
Moving forward, Wedeking intends to keep working on his current grant and hopes to see more projects come from it. He has also been named editor of "The Journal of Law and Courts," which will keep him busy when he's not helping guide the Department's graduate program. 
"It's great because I get to shape what gets published in one of the field's major journals," Wedeking said.
Originally, Wedeking is from Minnesota and attended St. Cloud State University on a football scholarship before receiving his master's degree from the University of Mississippi and his Ph.D. from the University of Minnesota. Initially, he majored in political science and criminal justice, intending to pursue the latter in graduate school.
"Like many political science undergrads I thought I wanted to go to law school, so I spent probably two years checking out law schools, even taking practice LSAT tests," Wedeking said. 
After spending a year working an internship at the local courthouse his senior year, Wedeking learned the lawyer lifestyle wasn't a fit for him. 
"I then thought I might like to go into court administration, but a nudge from my professor to try political science in grad school has worked out," Wedeking said.