VIDEO: A&S Political Science Alumnus Completes Marathon on Every Continent
By Gail Hairston, Amy Jones-Timoney, and Kody Kiser
Many people can say they've been "around the world," but only a few of those have actually set foot on all seven continents.
University of Kentucky alumnus Jason Darnall (1999) can beat that boast by miles ... at a jog. From a standing start, it has taken less than six years for Darnall to run around the world, touching foot on all seven continents, including ice-bound Antarctica, one marathon at a time. Along the way, he has earned about $10,000 in charitable contributions to cancer and asthma research.
He started his world tour of marathons with resolve. The second marathon he ever ran was Boston, in April 2012. That's when he learned about the other World Marathon Majors, the six biggest, most competitive marathons in the world — Boston, New York, Chicago, London, Tokyo and Berlin. Once he had Boston, New York and Chicago in his rear view, Darnall was off to race around the world, combining his love of racing and his love of traveling.
In his everyday, button-down life, Darnall, who earned his bachelor's degree in political science from the UK College of Arts and Sciences, is a prosecutor and a private attorney in his native Marshall County, Kentucky.
"I've just been practicing law, running, working out, coming (to Lexington) for basketball and football games. That's what I do — just run, travel and follow sports," he said.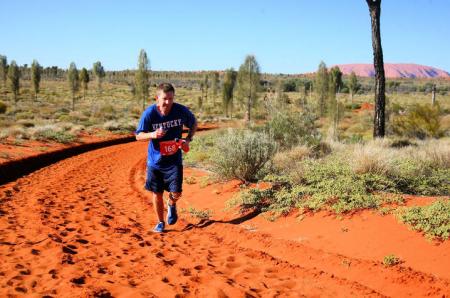 Don't let Darnall's modest nature fool you. The quiet, unassuming attorney sees nothing particularly outrageous, or even eyebrow-raising, about racing around the world. It's just something that happened, not a goal he deliberately set for himself ... sort of like the habit of wearing the same University of Kentucky T-shirt on his global tour of racing.
"I didn't start out planning on wearing this shirt on all seven continents, but everywhere I go I pack Kentucky shirts and St. Louis Cardinals shirts to let people know who and where I'm from and who I root for. It just kinda worked out that this shirt fell into the rotation," he said, reluctantly admitting that there was "probably a little bit of superstition involved, having the same shirt on at the races, all seven continents."
Wearing Kentucky blue in Greece, he heard "Bravo, Kentucky" as he raced. In Boston, he heard "Go, Kentucky! Go, Kentucky!" He even heard the spectators scream "Kentucky!" in Tokyo.
"So it has served me well. I only wear it on special occasions," he said.
Since visiting North and South America, Europe, Asia, Australia and Africa isn't that extraordinary, Darnall isn't surprised that there is one common question people have after they learn what he does "on vacation."
What's running in Antarctica like?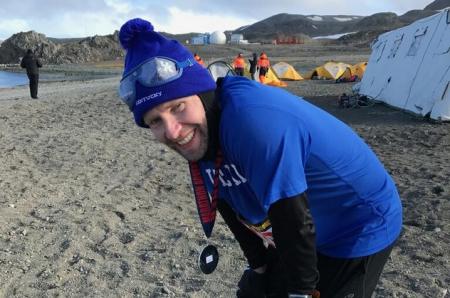 "Antarctica was very unique because, you have a small window when you can actually get in there weather-wise. We didn't know for sure when we were going to run (until) we woke up at 6 to check the board in the hotel (in Chile) to see if the weather was going to permit us to go. Even on the flight there, we didn't know for sure if we were going to run. So it's just very … difficult to prepare for that race," Darnall explained.
After landing on the unforgiving landscape, the runners had to carry their luggage a mile and a half to two miles to the campsite, drop their bags and immediately start racing.
"It was very hilly and rocky. It was in their summertime, so there wasn't a lot of snow on the ground, but it was definitely the worst, most difficult course I've ever been on as far as the rocks and hills," he said.
But the trip wasn't only discomfort, mixed with a dash of pain. How could it be with penguins in the audience?
Darnall said he watched as one runner found a special fan.
"There was a penguin that came up beside her and started running (with her), but then fell down. She got a video of it. It's pretty funny. The penguins down there don't have any land predators, so they have no fear of anybody. If you sit down and be still, there's a good chance they'll start sniffin' around and peck around your clothes," he said.
Perhaps, somewhere in the vastness of Antarctica, there is a small, waddling, wing-flapping UK fan still looking for his own Kentucky blue T-shirt at the bottom of the world.