Political Science Department's Investment in Undergraduate Research Starting to Pay Dividends
The Political Science Department's investment in undergraduate research started paying major dividends this semester, with students producing and presenting scientific research to an unprecedented degree.
Three students – Gammon Fain, Anne Klette, and Vandenbosch Outstanding Senior finalist Elizabeth Dade – took their research projects to national disciplinary conferences, where they received advice on their work from scholars at top academic institutions around the country.  Fain, in particular, managed an historic achievement: He won the 2018 Rifai Award for best student paper at the annual meeting of the Kentucky Political Science Association – the first time the University of Kentucky has ever taken home that prize.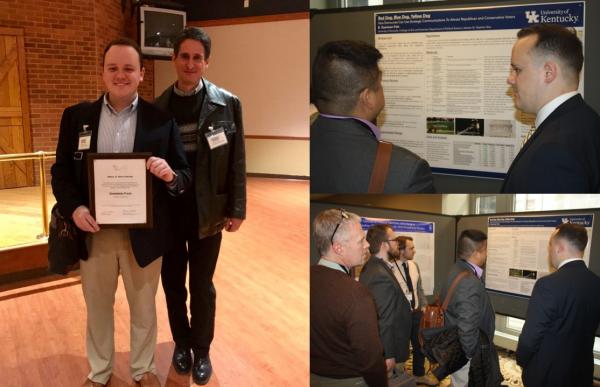 UNPRECEDENTED ACCOMPLISHMENT: B. Gammon Fain, semi-finalist for the 2018 Vandenbosch Outstanding Senior Award, holds the first Rifai Award ever earned by a UK student (pictured at left with advisor Stephen Voss), an honors project later presented in poster form at the Midwest Political Science Association conference (at right, being questioned by UK political science Ph.D. Yu Ouyang while onlookers listen).
Other Political Science undergraduates have been presenting their research in student-oriented venues, such as the National Conference for Undergraduate Research (NCUR) and, soon, the Showcase of Undergraduate Scholars.  Submissions for the Political Science Department's undergraduate paper awards stood out for both their quantity and their quality.
Most of this year's prominent undergraduate research emerged from the department's honors program, having been developed in a capstone seminar (PS 490) led this year by Prof. Stephen Voss and scheduled to be taught next year by Associate Chair Justin Wedeking.
Prof. Voss not only met regularly with the 15 honors students and worked with them through the intensive process of designing, executing, and revising their work (as always happens in PS 490), his version of the course also required students to convert their analysis into a research poster and encouraged them to submit the work in proposal form so that it could be considered for conferences, awards, and publications.
When students took up the challenge, Voss scrambled to secure outside money for their travels, receiving generous assistance in particular from the Chellgren Center's Office of Undergraduate Research.  And he personally escorted students through the conference process – driving them to and from the meetings, accompanying them to conference events, helping with expenses, and introducing them to scholars in their fields.  Hoping to broaden their cultural exposure, Voss even treated them to a visit to the Art Institute of Chicago.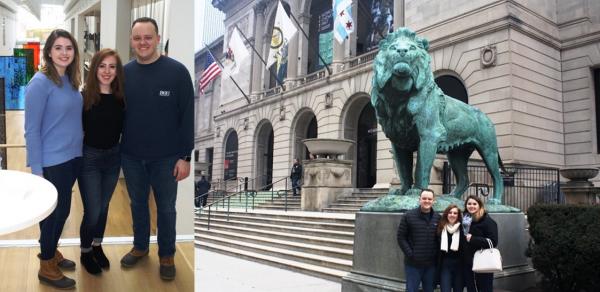 ALL WORK AND NO PLAY? - Students presenting at the 2018 Midwest Political Science Association conference took a break so that they could visit the famed Art Institute of Chicago.  Prof. Voss started them out in the Impressionist collection, before they set off to roam the museum's treasures.
Klette – who, despite being an undergraduate junior, enrolled in the department's graduate methods course last Fall – made the most of the opportunities offered by her trip to the Midwest Political Science Association meeting in Chicago.  Not only did she get the chance to explain her research to a string of questioners from institutions such as Princeton, Harvard, and Yale, she also received extensive mentoring advice from professors outside of UK.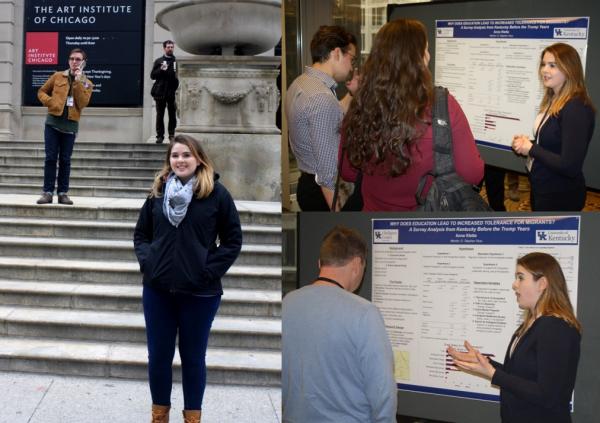 THOROUGHLY INTERROGATED - Anne Klette presented her research on immigration attitudes twice, once as a paper at the Kentucky Political Science Association meeting and once, pictured here, at a major national conference, the Midwest Political Science Association meeting held annually in Chicago.  Klette began her work on the project last Summer, as a research assistant for Prof. Voss.
"Overall, my experience at MPSA was invaluable because of the opportunity to network and the chance to present my research to experts in the field," Klette said.
The honors seminar trained her to describe her research quickly, in the three minutes one might share with an important scholar in an elevator or chatting after a seminar.  That skill unexpectedly came in handy at MPSA.
"During the conference, I had the opportunity to meet the author of one of the main sources for my thesis," Klette explains.  Her three-minute thesis description opened up a lengthy discussion.  "He is a political scientist at a graduate school I am considering. He spoke with me extensively about my research, and provided advice and guidance about a future in political science."
One thesis that Voss advised, by Vandenbosch Outstanding Senior finalist Sylvia Wilson analyzing American incarceration rates, ended up winning the department's Crum Award for best paper by a Political Science undergraduate.  Wilson will present a version of the research at this year's Showcase of Undergraduate Scholars.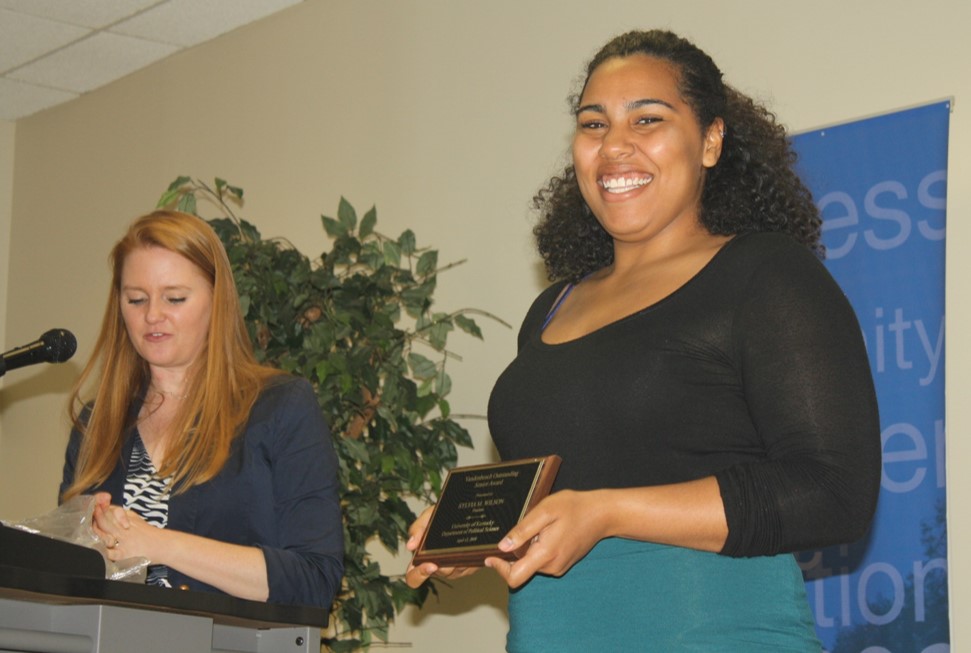 TRULY MULTIDISCIPLINARY - Sylvia Wilson, a double major in Political Science and Biology, had already met her research requirement in the natural sciences before deciding to tackle a social-science project with Prof. Voss (with whom she'd previously taken the introduction to American Government).  Her strong scientific and analytical abilities helped propel Wilson into a finalist position for the outstanding senior award.
Voss stresses that while he helped create the venue for student achievements, he can take little personal credit for this year's successes.  For one thing, he says, the Political Science honors capstone seminar attracts some incredible and highly motivated students.
Did any of them particularly stand out for their efforts?   "Gammon Fain," Voss answers, without hesitation. "A dozen great students took the honors seminar, but Gammon amazed me,"
To conduct his research on campaign messaging, Fain taught himself video-editing software to create advertisements, taught himself survey software to create his experiment, and taught himself a statistical package to analyze the results.
"I might see that level of motivation from a student once or twice every half decade," Voss says.  "He was outstanding."
Thesis advising is a group effort.  Voss acted as primary advisor for students researching topics related to his expertise, but for others he merely supervised the process while scholars at UK with the relevant specialization provided the bulk of the academic support.
A recent arrival to the faculty, Prof. Mike Zilis, took the helm on advising a few of the honors projects related to the judiciary.  For example, he provided the lion's share of the support for Dade's thesis on court-curbing efforts – which is to say, legislation intended to keep the judiciary in check.
"I set up a morning brainstorming meeting with the two of them, and showed up with three cups of Starbucks coffee (which I'd never purchased before in my life)," Voss reports.  "The research design was completed before the coffee, and after that, Mike and Elizabeth were off and running.  All I did was remind them of deadlines until the point when Elizabeth showed up with a completed paper and a slick poster draft."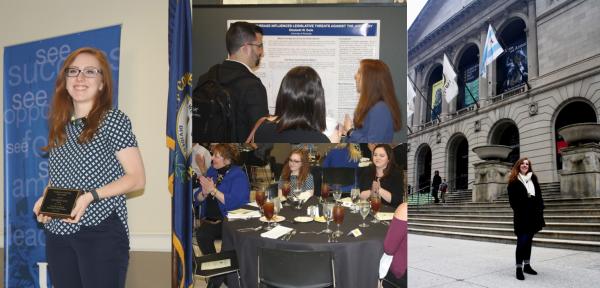 GOING NORTH - Elizabeth Dade, bound for Indiana University's law school, won a finalist spot for the department's outstanding-senior award in part based on a strong judicial-politics thesis advised by Prof. Mike Zilis.
Another judicial-politics thesis that Zilis led, by Alexander Borne on the media framing of constitutional controversies, scored the department's Vandenbosch Award for outstanding undergraduate paper on law and courts.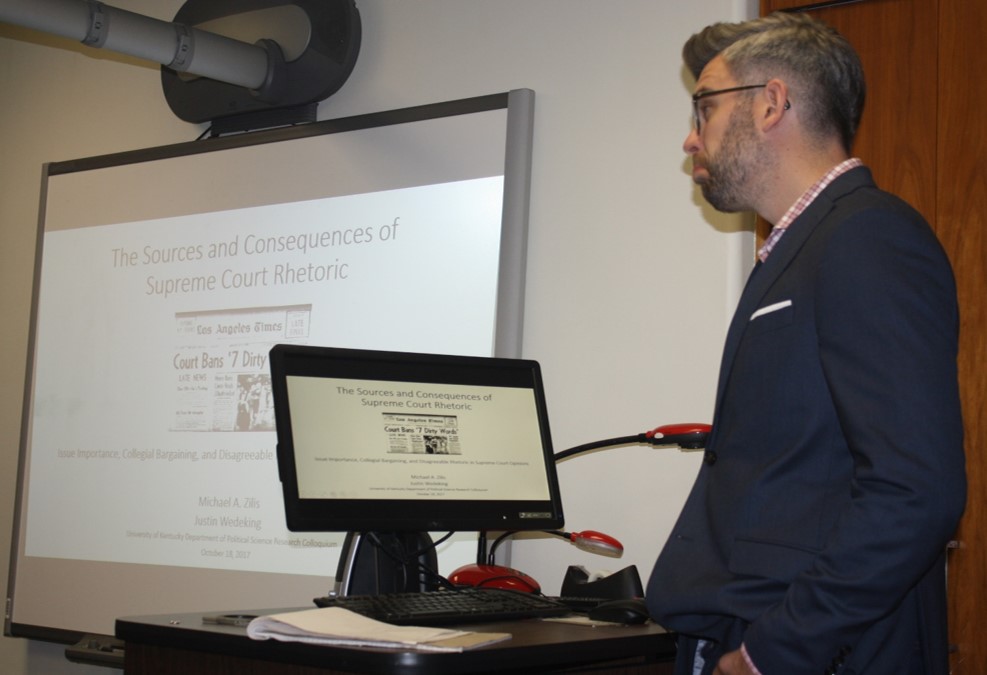 NEWSWORTHY - Mike Zilis advised two of the top honors thesis projects this year, including work by Xander Borne close to Prof. Zilis' own research agenda on media coverage of the courts (being presented above). Borne could not accept the Vandenbosch Paper Award in person due to his travels.
"Our undergraduates are extremely impressive, and I learned quite a bit working with them on their honors research," Prof. Zilis reports.  "Xander's project was particularly interesting in that it combined a question of concern to judicial scholars as well as one that had resonance in Kentucky, following the same-sex marriage controversy surrounding Kim Davis … Xander studied both media coverage and public opinion in his thesis, analyzing news reports and administering an experiment based on them to UK students. His work offered novel insights about what happens when local political officials resist the rulings of the Supreme Court."
Director of Undergraduate Studies Tiffany Barnes, meanwhile, actively advised student Brianna Vollman – whose research seeking to understand the politics of conservative women, which Vollman conducted both as a thesis author and as assistant to Prof. Barnes, helped propel her into the singular honor of being 2018's Vandenbosch Outstanding Senior in Political Science.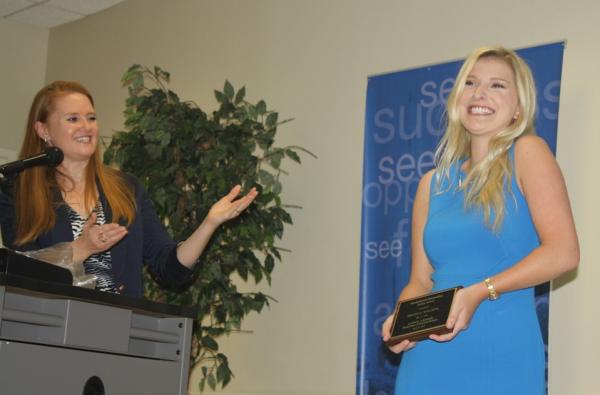 DREAMS COME TRUE - Director of Undergraduate Studies Tiffany Barnes presents the 2018 Vandenbosch Outstanding Senior Award to Brianna D. Vollman, who wrote her honors thesis while researching the politics of conservative women with Prof. Barnes.  In addition to her conventional academic accomplishments, Vollman took time off to work at Disney World and analyze Disney's cultural influence.
Some academic advisors pitched in despite serving in a different program.  Prof. Emily Bonistall Postel in Sociology gave such strong and generous support to senior Amanda Edelen that her thesis, trying to explain what leads sexual-assault victims to report that they have been attacked, ranked as runner up for both of the department's undergraduate paper awards, a rare achievement.  Edelen presented the work at NCUR.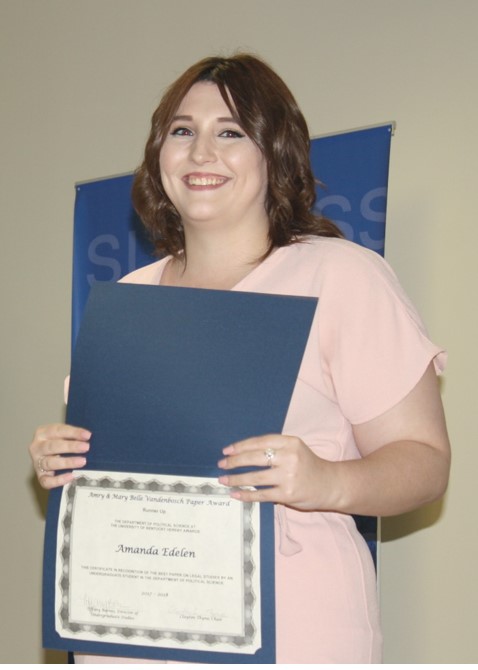 SECOND TO NONE - Amanda Edelen's honors thesis -- submitted in Prof. Voss' honors seminar with academic advising from sociologist Emily Bonistall Postel -- won recognition from two separate faculty awards committees.
None of these achievements would have been possible without support from the top. The Political Science Department ramped up its investment in promoting undergraduate research – both in terms of how faculty members spent their time and, to the extent possible, how the Political Science Department invested limited financial resources.
Political Science Chair Clayton Thyne repeatedly located money in the budget so that he could support both students and mentors as they took their research on the road.
"To me, it was a no-brainer," Thyne says. "Going to a conference sets students up well for going to graduate school and exposes them to cutting-edge ideas.  Even if they're going into a different sort of job, it's a great pinnacle to their research experience."
Voss attributes the department's growing emphasis on student research to the demands of the job market.
"Encouraging undergraduates to develop an active research agenda has never been more important, due to the challenges that graduates will face as they move into the work force," Voss explains.
The students do not necessarily need to conduct this research within Political Science, especially if they are pursuing multiple college majors.  Briana Katinic, one of the three finalists for Vandenbosch Outstanding Senior in Political Science, wrote her thesis with UK's Economics program, and many political-science majors perform capstone work through Lewis Honors College or the International Studies program.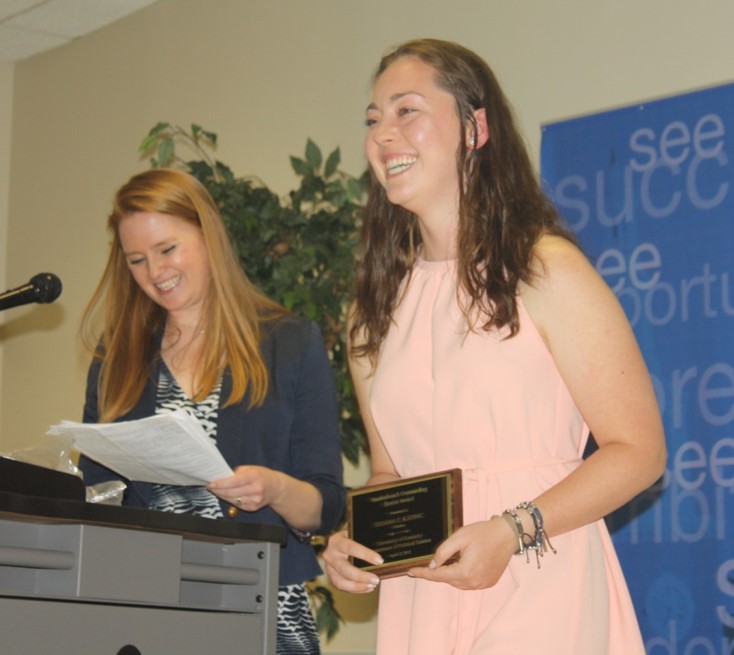 THE POLITICAL ECONOMIST - Briana Katinic, finalist for the Vandenbosch Outstanding Senior Award, wrote her honors thesis in the Economics program.
Still, Voss says that the Political Science Department provides an attractive option for ambitious students.  "Now more than ever before, students heading out into the career world need the technical skills and critical-thinking abilities that grow out of trying to contribute to knowledge.  The Political Science honors program gives them that opportunity."
More photos from the Vandenbosch Awards Banquet, including pictures of the graduate-student award winners, appear in the Political Science Department's photo gallery.